Daley - Lavaux, Villette Grand Cru, Lavaux A.O.C 2017
Of a low yield production, partially aged on its lees – this wine is racy. Graced with a beautiful suppleness and colourful body, the Chasselas brings to you the charm of its environment. An emblematic grape variety of our domaine, Chasselas is its historical ambassador.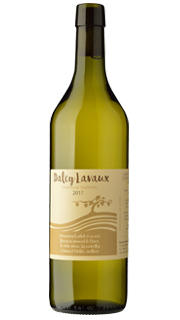 CHF 16.00
Intense and fruity, with a hint of characteristic bitterness in the finish, our vintage Daley-Lavaux highlights our terroir and is suitable for aging.
The 2017 vintage, the third year using biodynamic wine production methods, marks the beginning of a richer, more expressive style. The harvest was limited and the quality exceptional ... There's a quaint expression in French of a wine being from "derrière les fagots" – literally meaning from behind the wood stacks, referring to wine makers hiding the good stuff behind the wood stacks in the cellar so nobody could get to them.
Daley-Lavaux, Villette Grand Cru, Lavaux A.O.C 2017
Chasselas harvested from 27th–30th September ~ 81°Oe / 1.1 Kg/m2
Bottle of 750 ml.
Made from biodynamic grape
---