L'ANTHROPOCÈNE, Villette Grand Cru, AOC Lavaux. 2016
The main theme of this exceptional vintage highlights this fundamental principle: "Human activity INFLUENCES first and foremost the evolution of our planet and it is our time to take RESPONSIBILITY"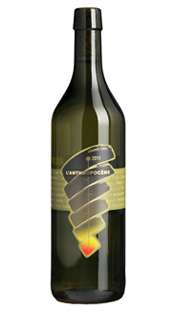 CHF 16.00
Ambassador of sustainable development, poetry in nature is in this bottle. Wine is a matter of heart, ANTHROPOCENE a resource. Animated, alive, vibrant, a reality, a responsible choice, a magnificent artisan product ... Through this vintage, I seek to enhance my work and give it an extension. What is undertaken in my vineyard, can be done on all levels, by each of us. I hope that each bottle of "ANTHROPOCENE" carries this philosophy ... Less than a kilo of grapes per vine, grown in harmony with its environment. Chasselas, intense and aromatic, bursting with Nature! L'ANTHROPOCÈNE Villette Grand Cru, Lavaux A.O.c 2016:
Chasselas harvested from 11.10 to 13.10.2016 ~ 81° Oe/0.5 Kg/m2
Bottle of 750ml.
From biodynamic grapes
---