Plant-Robert, Villette Grand Cru, Lavaux A.O.C, 2016
Plant Robert is a unique specialty of Lavaux. Its beautiful grapes, slightly oblong, are reminiscent of barrels. But it is the subtle and spicy character of this grape variety that makes it original. How did it arrive in our area? The legend speaks of a vine that was "stolen" from its bearer, a Roman soldier... curious.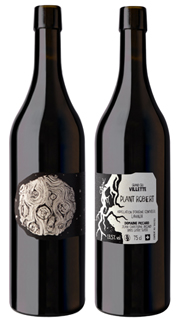 CHF 25.00
What is certain is that we have planted circa 1995. And it has since become a rather expensive wine! It is perhaps the most acclimatized red variety; the most regular of our vineyard. Good year, bad weather, severe weather or mild, it produces every year beautiful crops, like the 2016 vintage.
We like a long aging (12 months) in French oak barrels. Rich in color, aging in the bottle (min.18 months) highlights the elegant marriage of flavors and tannins, giving our Plant Robert its trademark, unique to the Lavaux.
***Sold Out***
Plant-Robert, Villette Grand Cru, Lavaux A.O.C,2016
Plant Robert Harvested on 16.10.16 90°Oe 0.77kg/m2
Bottle of 750ml.
Made from biodynamic grapes
---