Le Coup de Fouet (Whiplash)- non filtré - Villette Grand Cru - Lavaux A.O.C - 2018 - Demeter
A cuvée made "with the old", i.e. high on its residues, until bottling without any filtration to alter the virtues of its soil. The 2018 vintage is the first to be labeled "Demeter". It's a new adventure!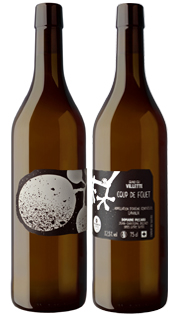 CHF 18.00
Therefore, the beautiful "juice" of the 2018 vintage, unchaptalised, is from fermented, indigenous yeasts. A first at the Domaine, which affirms our interest in working with nature! This is a vinification most "pure", without sulphite, at least until bottling- where we added 15mg / lt.
The Whiplash 2018, from its new label to its unique style takes your tastebuds to new shores ... What a feeling!
Whiplash, Chasselas unfiltered, high on lees, Villette Grand Cru, Lavaux A.O.C 2018
Chasselas harvested on 24 au 28.09.18, 90°Oe 0.7 Kg/m2
Total Sulphites: 44mg/lt.
Bottle of 750ml.
---