Pet Nat (2020) - Vin de pays - DEMETER
Ah, bubbles, we like that in our juices! Fresh twirling bubbles, in a natural wine -- natural sparkling ... Each bottle is unique and animated by its own dynamic. it is living wine and made without any added sulphites...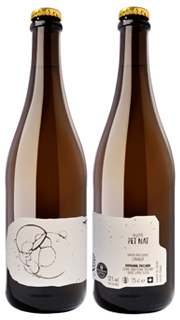 CHF 27.00
This cuvée (second vintage) is made from Chasselas, Muscaris and Marsanne. Gewurztraminer and Chardonnay are also included, in small quantities. This second vintage is even more original than the first with sweet floral scents and currents of aerial bubbles that break over your taste buds.
Pet Nat, Vin de pays - Demeter
Chasselas harvested from 28.09. to 01.10.20 85°Oe 0.75 kg/m2 (65%)
Marsanne harvested on 05.10.20 105°Oe 0.65 kg/m2 (12.5%)
Muscaris harvested on 15.09.20 100°Oe 0.60 kg/m2 (12.5%)
Gewurztraminer harvested on 05.10.20 96°Oe 0.60 kg/m2 (5%)
Chardonnay harvested on 05.10.20 100°Oe 0.70 kg/m2 (5%)



Free of any additive
Bottles of 750 ml. – crown capsule
---